Free Com Port Redirector Overview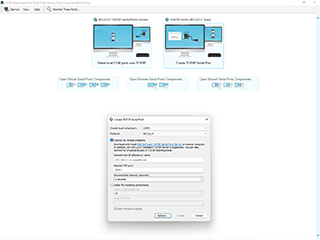 Free Com Ports Redirector is a freeware version of HHD Software Serial to IP redirection utility named Network Serial Ports.
It supports Windows platform, allows you to easily bridge serial ports using TCP/IP protocol and requires no additional software or hardware components.
Our Free Serial Port Redirector provides you with a variety of operating modes. It can provide access to physical serial ports and devices via TCP, connect to RS232/RS485/RS422 ports over TCP/IP and create TCP bridges between any kinds of serial ports.
This Serial over Ethernet solution supports RFC2217 protocol (Telnet Com Port Control Option) which makes it fully compatible with any existed Serial over IP software applications or hardware solutions. It uses proven serial port virtualization technology that works perfectly with any Plug and Play RS-232, RS-422, RS-485 ports, Com ports created by USB-to-Serial adapters, legacy serial ports and software-based virtual Com ports. Thus any serial device or application (including legacy ones) may become network-ready in just seconds.
In contrast to any competitive "Serial over LAN" solutions our product operates exclusively in user-mode space. This Com Port Redirector contains no kernel-mode components and uses user-mode API calls only, which makes it a true champion of system reliability and stability, unreachable by any competing tools. Our Serial-TCP redirection utility is the only one that can truly guarantee you no BSODs!
Download this Free Serial over Ethernet software solution and start sharing/accessing serial ports over TCP/IP network in just seconds!
How it Works
Our software serial-to-tcp converter supports listening (TCP/IP serial server), connecting (TCP/IP serial client) modes and provides you with TCP/IP Serial Ports Server component for sharing existing physical ports and devices.
Serial TCP/IP client (connecting) mode

You specify the remote host name or IP address, TCP port to connect and communication protocol (RFC2217 or Raw). The product then creates a virtual serial port. If any serial application opens this port, the product attempts to connect to the specified TCP/IP endpoint. Upon successful connection, communication continues according to the specified protocol.

Serial TCP/IP server (listening) mode

You specify the local address and the TCP port to listen on. The product then creates a virtual serial port. When serial application opens this port, a listening socket is created and driver waits for incoming TCP/IP connection. Upon successful connection, communication continues according to the specified protocol.

TCP/IP Serial Ports Server component

This component can be installed separately and allows you to turn any PC with serial ports into a Serial Device Server. You just select the existing serial ports to share, specify the TCP port and protocol (RFC2217 or Raw), and Serial Port Redirector does the rest.
Any of the TCP/IP virtual serial ports created is transparent and fully emulates the behavior of a physical port. It is completely identical to the real Com port for any application interacting with it.
Download it now!
Features
The product allows you to share and access serial ports over Ethernet, LAN or Internet. It provides you with the following features:
Interfacing serial devices to a network
No Kernel-Mode components, exceptional system stability!
Full hardware Serial Ports emulation
Supports Telnet Com Port Control Option: RFC 2217
Allows you to turn any computer into a Serial Device Server
Makes any serial device IoT ready
Turns any serial ports into cloud-compatible devices
Supports simple Copy & Paste deployment
GUI and command-line configuration utilities
May run as Windows service
Developer API, scripting
Automatic ports and connections recovery
Native support for dark themes
Note: our Com Port Redirector is a Freemium product, its basic serial port redirection functions are free, advanced functions may require payment.
Product provides you with easy-to-use GUI and command-line application control options.
System Requirements
Product requires workstation or server machine with dual-core x86, x64, Arm64 compatible CPU, 2 GB of RAM memory, 24 MB of free space on HDD or SSD drive.
Free Serial Port Redirector supports Windows x86 and x64 desktop/server platforms starting from Windows 7. Windows 11, Windows 10 32-bit, 64-bit and Arm-64 are fully supported.
Download Free Com Port Redirector now!
More Information
All virtual serial ports created fully emulate the following com port flowcontrol options: Software (XON/XOFF flow control), Hardware (RTS/CTS flow control, DTS/DSR flow control) and custom flow control.
All standard and custom non-standard serial port bit rates are emulated. All I/O ports interfaced by 16550 UART with COM1 - COMN serial interface, USB-to-serial ports and software-based virtual com ports, correctly registered under standard Ports (COM & LPT) device class are supported. Our software-based RS232/RS485/RS422 Serial-to-Ethernet converter fully emulates TX, RX, DTR, DCD, DSR, RTS, CTS and RI serial lines and modem options.
Free Serial Ports Redirector Advantages
Reliable.

It uses only user mode API calls (No Kernel-Mode components).

Friendly.

It supports RFC2217.

Compatible.

It supports serial device servers and other equipment.

Simple.

It allows simple Copy/Paste deployment.

FREE.

It costs nothing!

Without the need of the actual hardware, we can use this user friendly virtual serial port application to connect with virtual com ports and sniff the data communication. The tool is really robust and helpful.
Praveen K. Mamilla
Medtronic
Lead